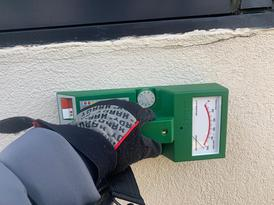 What's The Difference Between EIFS and Stucco? Materials
A traditional hard-coat stucco exterior system is extremely durable because it essentially covers your home with a layer of rock. Cement stucco is made of sand, a small quantity of lime, Portland cement and water. Basically, it is a fine-grained concrete that is attached to your house using a waterproof barrier paper, galvanized wire mesh and metal flashings (devices that channel water to the exterior of a wall). The stucco's facade is meant to be a primary barrier, but a secondary or "concealed" barrier directs any water that gets behind the facade to the exterior. This creates a dual barrier to wind-driven rain, snow and ice. Barrier EIFS on the other hand, uses a multi-layer "synthetic" stucco that is much softer than traditional stucco.
The Potential Problem with EIFS...
The potential problem with EIFS is that moisture can get trapped behind the highly water resistant material with no way out. This can cause the framing to rot and foster the growth of mold between the exterior and interior walls. Damp and rotting wood is also a prime target for subterranean termites. It should be stated that the potential for these conditions exist with any type of exterior siding product be it brick veneer, wood, or vinyl siding. The potential for this condition with EIFS however can be exacerbated by its superior water resistance. Once moisture gets in, regardless of its origin, it usually has no escape.
The main locations where water tends to infiltrate into the framing structure of a building using an EIFS is around doors and windows, where the roof connects to the EIFS (roof flashing), and below extended exterior deck connections. Also, any moisture from within the home trying to find a path out will likely be thwarted by the EIFS.